Press release
European Energy connects Kvosted solar park to the grid
Feb 07, 2023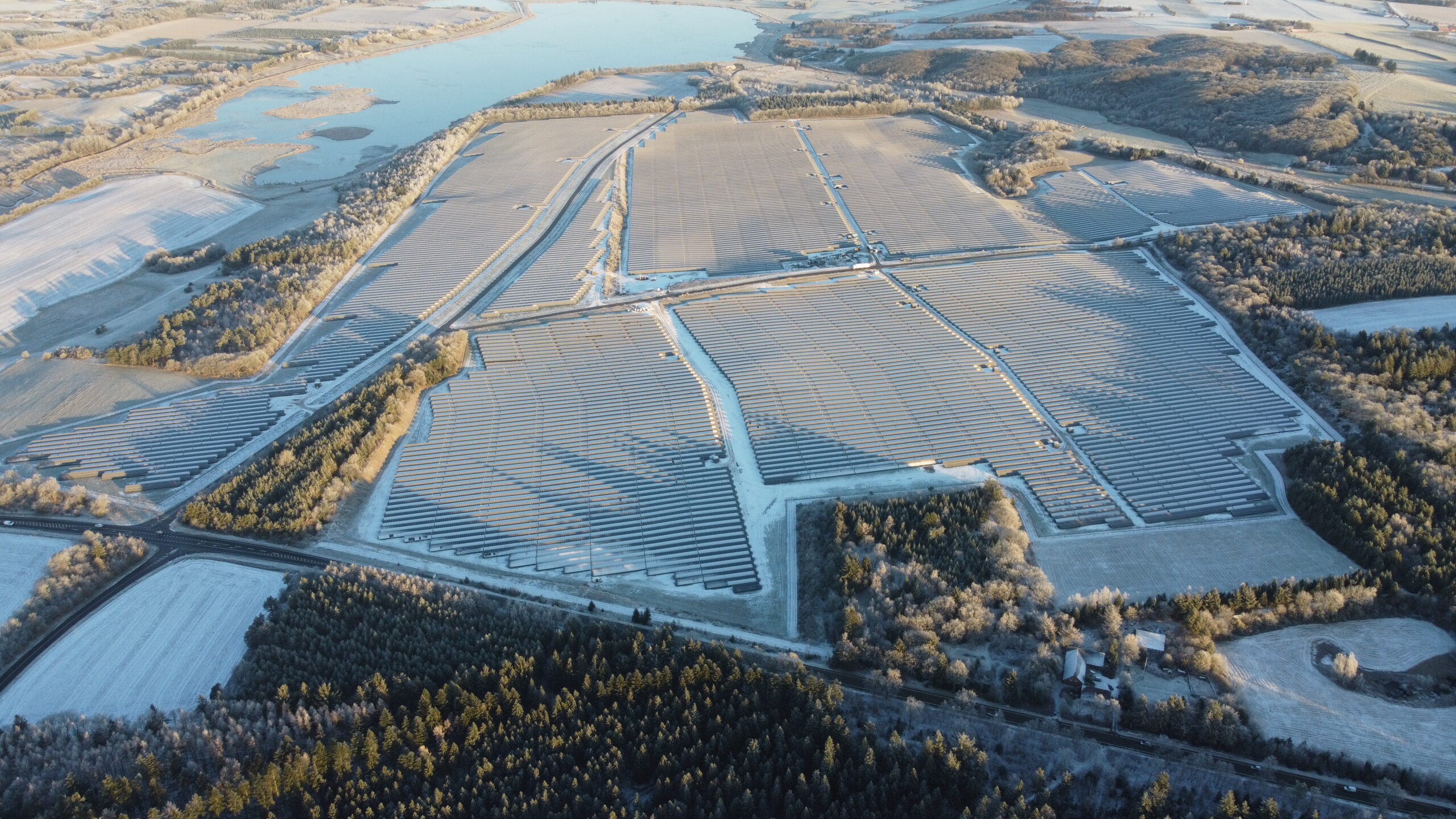 A new solar park in Viborg Municipality in Central Jutland is now connected to the electricity grid. European Energy has developed and built the solar park, which will have an energy capacity of 101 MW. This corresponds to the solar park being able to produce green electricity corresponding to the needs of 22,000 households.
European Energy has connected Solar Park Kvosted in Viborg Municipality in Central Jutland to the grid. The solar park is built on an area that has previously been used for the extraction of gravel. The park will have an energy capacity of 101 MW. This corresponds to the solar park being able to supply 22,000 households with green energy.
The project has been under development since 2019, and the first solar panels were installed in August 2022.
– We are very happy that we have connected Solar Park Kvosted to the electricity grid. The process has been characterized by a good dialogue with both landowners, neighbours, and the municipality, says Kresten Vilsgaard, project developer at Solar Park Kvosted in European Energy.
– During the process of building the solar park, we have had the benefit of being able to draw on many of the competencies that the local community has. This is something that we value very much at European Energy.
Green planting belt
A wide belt of trees and bushes, totaling 54,000 plants, has been established around the solar park. When fully grown, the vegetation will be four meters high and will cover the view to the solar park from the surrounding public roads.
European Energy has also contributed EUR 430,000 to a green fundthat Viborg municipality administers.
– I am very happy that this project is now ready to produce green energy and thus contributes to Viborg Municipality being on the green Denmark map. The location for the park is perfect and is already almost screened by vegetation. Also I look forward to the fact that the nearest neighbours to the solar plant can benefit from the funds from the green pool, says Eva Pinnerup, chairman of the Climate and Environment Committee in Viborg Municipality.
By the end of 2022, European Energy will have installed renewable energy projects in Denmark with a total energy capacity of more than 500 MW during the year.
– Solar Park Kvosted is a model example of how good cooperation between local communities, municipalities and energy companies like ours can effectively contribute to the green transition in Denmark. We have a significant number of projects in Denmark which could be effectively realized through the same constructive cooperation as we have had on Solar Park Kvosted, says Lars Houlind, country manager for Denmark at European Energy.
Contact